Size chart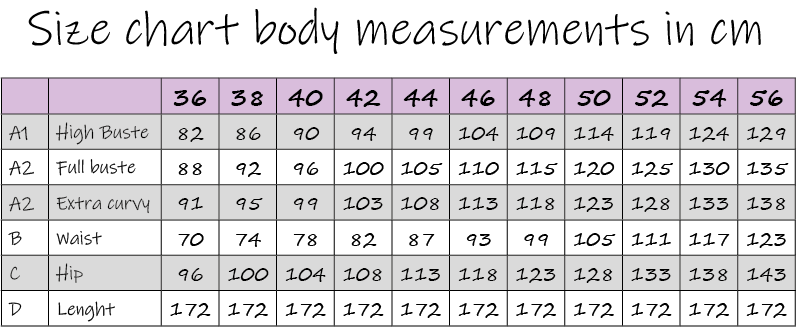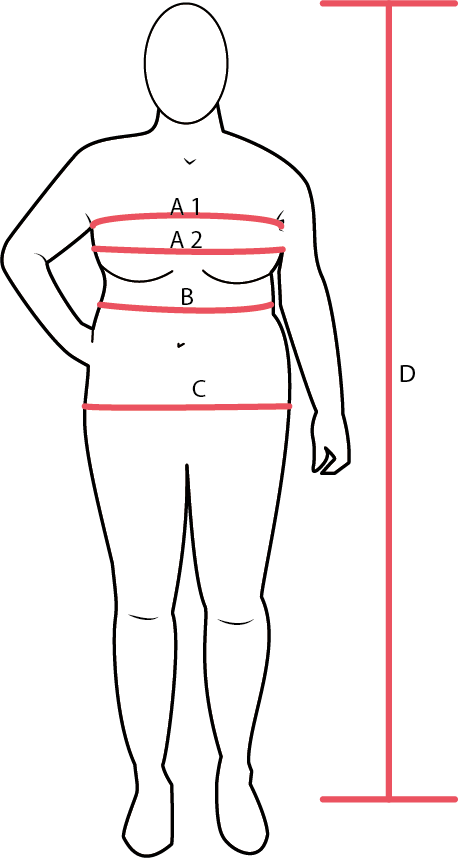 The sizes from our size chart may deviate from the ready-to-wear size that you are used to wearing. Always choose the pattern size based on this body measurement table.
The pattern is adapted to the fabric for which it is suitable.
A1 High bust; is measured ABOVE the bust and under the armpit. The difference between A1 and A2 determines your cup size.
A2 Full bust; is measured over the fullest part of the bust. If you wear a larger cup size (larger than cup D), use the extra curvy pattern that is offered with certain styles. For example, if you have a high bust of 99cm and a full bust of 107cm, an extra curvy pattern will suit you better, because there is more room for the fuller cup.
B Waist; the slimmest part around your waist. It can help to put an elastic about 1cm wide around the waist and after some movement back and forth, this elastic will automatically find the slimmest part. You can measure there.
C Hip; the thickest part measured over your buttocks.
D body length
How do I choose which size fits me?
Tops, jackets and vests are chosen based on the bust size, but if you have, for example, a pear figure and your bust size 42 and your hip size 46, then the length of the top determines which size you choose. For a model with a center back length longer than 60 cm, you choose the hip size, so 46.
What is super handy of our pattern system is that the patterns are built up in layers, which means that you can choose which size you want to have visible and print (A4 PDF) or project (projector file PDF). So you can choose to make both size 42 and size 46 visible and let the upper body part of size 42 flow smoothly to
a size 46 lower body part.
Pants and Skirts are chosen based on your hip width, unless your waist requires a larger size.